With Causeview, National Louis University has achieved major growth in donor acquisition and revenue generation.
About National Louis University
National Louis University (NLU) is a private university based out of Illinois, with six locations in the state and another in Tampa, Florida. Currently, over 7,300 students are enrolled in NLU undergraduate, masters, post-graduate, doctoral and online degree programs.
NLU's advancement and alumni relations department raises funds for scholarships, research and innovation, program support, and general school needs.
Like many other organizations, the National Louis University advancement team was burdened by outdated, inefficient systems, and that reduced the time available for donor acquisition.
We spoke with Danielle LaPointe, Director of Advancement Services at NLU, who explained the operational challenges they faced. "We couldn't easily update records to capture anecdotal information like donor preferences. There was no flexibility to make changes." Reporting on gifts received was also very difficult for Danielle and her team. "I'd have to put in a report request with a system administrator and I was 100% at the mercy of their workload. On a good day, I'd get a report a couple of hours later. Most of the time, it was the following week. I had no control."
This extended to their constituent-facing tools. "We had a very basic, antiquated online donation form before," explained Danielle about NLU's previous technology. "Donors complained that it was tedious." This had a real, negative impact on supporter satisfaction and these challenges meant that National Louis had much less time and tools to research, acquire and steward donors, with a clear negative effect on revenue.
"(Donors) need an easy way to give, and the simplicity of the online forms has made that possible."
- Danielle LaPointe, Director of Advancement Services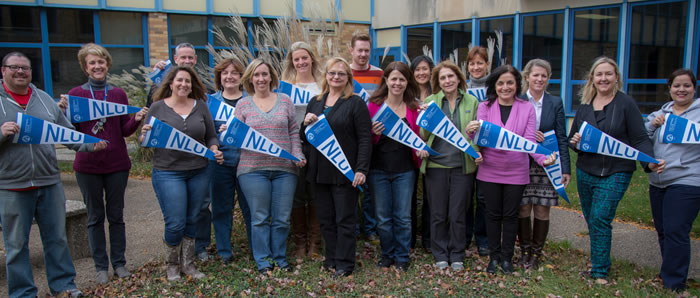 National Louis University sought a modern donor management system that would help the advancement department boost its bottom line. They sought to raise more funds from their alumni and other constituents, and to save time and effort internally with improved processes. This led to them implementing Causeview on the Salesforce.org platform.
With Causeview as a fully-integrated donor and donation management solution, National Louis can offer a custom, simple, and robust online giving form to their supporters, processing both one-time and recurring gifts. It is also easy to create and track gifts right in their Salesforce instance, including pledges and payments by credit card, ACH, stock, property and more.
They now have a central, cloud-based database that can be accessed and updated from anywhere, anytime, and on any device. "Using Causeview as a standalone system in our department has let us track and capture a lot of information we couldn't previously," said Danielle. "We've built out the information that we're tracking and keep it all in one central place." This means that they can more rapidly run reports that help them identify opportunities to convert alumni and other constituents into new donors.
After a donation is made, gift reporting is now significantly enhanced, where reports can be easily run in minutes, rather than the days it had taken to receive administrator support in the past.



"We can finally function like a development department should."
Moving to Causeview has helped lead to considerable growth for National Louis University's advancement revenue. With the changes implemented by using Causeview, there was a 60% increase in new donor acquisition in 2016, followed by another 11% increase in 2017. That also led to revenue growth from first time donors of 529% and 61% respectively.
"A good chunk of that has been our new donation forms," said Danielle. "There was no easy way for people who wanted to give to do so. They had to fill out a huge form. Many of the new donors are not alumni in the traditional sense, they are individuals who took a course or participated in a non-degree granting program, or came to support NLU for some reason other than receiving a degree. They need an easy way to give, and the simplicity of the online forms has made that possible."
With the boost in new donors and the simplicity of Causeview, National Louis is working to rebuild a dormant pipeline for major and planned gifts and pledges. "We've been able to implement more traditional approaches to the annual fund and planned giving, and have benefited from easy, targeted segmentation. We can finally function like a development department should."
See Causeview in Action
Spend some time with a fundraising expert to see how Causeview can help your organization.